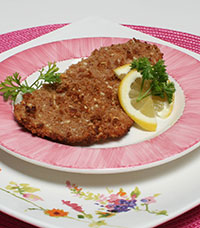 Breading and baking fish is a healthy way to infuse flavor and keep it moist. Tilapia is a mild white fish that pairs well with fresh Italian herbs and packs healthy protein. The crust is a nutritious combination of whole-wheat bread crumbs and almonds. Nuts like almonds contain heart-healthy unsaturated fats, fiber and vitamin E, which is being studied for its antioxidant properties.
Ingredients
Canola oil cooking spray
1 egg
2 Tbsp. lemon juice
1 Tbsp. extra virgin olive oil
2 tsp. Italian seasoning
1/4 tsp. garlic powder
2 tsp. dried parsley or 2 Tbsp. finely chopped fresh parsley
Salt and pepper to taste
2 Tbsp. whole almonds (about 14-15 nuts)
2/3 cup whole-wheat bread crumbs
1 lb. tilapia
Directions
Preheat oven to 425 degrees and coat baking dish with cooking spray.
Beat egg in mixing bowl and add lemon juice, oil, Italian seasoning, garlic powder, parsley, and salt and pepper, combining well.
Process almonds and bread crumbs together in food processor or blender to a medium coarse crumb. Transfer to bowl.
Dip fish into egg mixture. Then dredge in crumb-nut mixture, coating both sides well. Place breaded fillets on prepared cooking dish.
Bake for 17 minutes and serve.
Makes 4 servings.
Per serving: 265 calories, 9 g total fat (1.5 g saturated fat), 15 g carbohydrate, 30 g protein, 1 g dietary fiber, 226 mg sodium.
Recipe from the American Institute for Cancer Research.